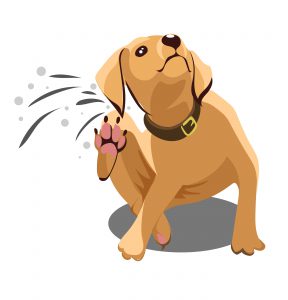 Before trying to find the best air purifiers for pet dander and pet odors, you need to understand that these particles are not the same size and shape. You also need to fully understand your primary reason for buying an air purifier as the cheaper machines will not necessarily be equally good at dealing with both types of pet particle.
If you or one of your family members has an allergy to pet dander, then the most important part of the air purifier to consider is the effectiveness of the HEPA filter. If, however, your main concern is the removal of unpleasant pet odors, then the activated carbon and ionizer parts of the machine will be more important.
Since pet dander and pet odor particles are not the same size, the most effective filter types for removing pet dander and pet odors are also different. Whilst HEPA filters are excellent at dealing with pet dander particles, they are not so good at removing unpleasant pet odors. In order to deal with pet odors, therefore, you need to look for an air purifier that also comes with an activated carbon filter or some other process designed to remove pet smells.
So, which are the best air purifiers for pet dander and pet odors?
Air Purifiers For Pet Dander & Odors
Here is my Top 5 list of recommended air purifiers for pet dander & odors, starting with the most expensive option and ending with a machine for those on a tight budget.
1.

IQAir HealthPro Plus
The IQAir HealthPro Plus air purifier is one of the most popular and highly rated premium machines on the market today. As a result, it is the most expensive option out of the 5 machines mentioned within this article.
Its high price tag buys a very powerful machine though and the HealthPro Plus air purifier has received positive endorsements from the American Lung Association and has also won numerous industry awards.
You may be familiar with True-HEPA filters and have heard about how great they are at removing small air particles. Well, the IQAir HealthPro Plus goes above and beyond the performance of a True-HEPA filter.
The HealthPro Plus comes with a PreMax pre-filter to remove the larger particles and then a Hyper-HEPA filter to remove the smaller particles that remain.
What is a Hyper-HEPA filter?
Well, the benchmark for a True-HEPA filter is that it must be able to remove 99.97% of airborne particles that are as small as 0.3 microns in size.
However, the Hyper-HEPA filters are capable of removing a staggering 99.5% of airborne particles that are as small as 0.003 microns in size. That is 100 times more than the other air purifiers on the market that are fitted with standard True-HEPA filters instead.
Pet dander particles are usually larger than 0.3 microns and so a True-HEPA filter will be good enough if that is your only concern. But, if you are someone that suffers with asthma or allergies (or you just want a machine that can remove other small particles), the Hyper-HEPA might be worth paying extra for.
One of the massive added bonuses of the Hyper-HEPA filter's impressive performance is that there is no need to add extra ionizer or electrostatic units to the purifiers in order to target the smaller particles, which means that the IQAir HealthPro plus is genuinely 100% Ozone-Free!
Unlike the IQAir HealthPro Compact version, the IQAir HealthPro Plus model also comes with a "V5 Gas & Odor Filter", which is perfectly suited to removing those nasty pet odors from your home. You can read my detailed comparison review of the Compact and Plus models here.
Here are a couple of videos showing the IQAir HealthPro Plus in Action …
Check Latest Price of the IQAir HealthPro Plus
Read User Reviews of the IQAir HealthPro Plus
2. 

Alen BreatheSmart

The Alen BreatheSmart air purifier comes with a washable pre-filter that is designed to remove the larger airborne particles without clogging up the more sophisticated HEPA filter.
Unlike the IQAir machines, however, the Alen BreatheSmart comes supplied with one of 4 different HEPA-filters, depending upon your specific needs.
Each of these HEPA filters is said to be capable of removing 99% of air particles as small as 0.3 microns.
The 2 most relevant options to those concerned with pet dander and pet odor issues are the HEPA-Pure Filter and the HEPA-Odorcell Filter.
The HEPA-Pure Filter is the standard option for everyday use and it comes with 3 layers of filter to remove dust, pet dander, mold spores and pollen from the home. This would probably be the first choice for those who are looking for a general all-purpose air purifier.
The HEPA-Odorcell Filter is designed more for those who are concerned about removing odors from the home, including pet and diaper smells.
So, you will need to decide whether your main objective is to remove as much pet dander as possible or to neutralise pet odors.
If you change your mind later on, or if your air purification needs change over time, you can simply buy a replacement filter of a different type.
Here are some videos about the Alen BreatheSmart air purifiers …
The Alen BreatheSmart is a high quality air purifier that also boasts a large variety of stylish color options to suit the decor within your home or office.
Check Latest Price of the Alen BreatheSmart
Read User Reviews of the Alen BreatheSmart
There are 3 different Alen BreatheSmart models to choose from. The main differences between them are the recommended room coverages, but there are also some functional differences to consider. You can read my comparison reviews of the range of Alen BreatheSmart air purifiers here:
3. 

Rabbit Air MinusA2

Just like the Alen BreathSmart, the Rabbit Air MinusA2 air purifier requires you to choose from one of 4 different special filters.
Again, there are 2 filters that relate specifically to pet dander and pet odor issues.
The Pet Allergy Filter is obviously designed primarily to target and remove large quantities of pet dander.
The Odor Remover Filter is targeted more towards the removal of odors, including those generated by pets.
In addition to this optional special filter, the Rabbit Air MinusA2 uses 5 other particle removal processes:
Washable pre-filter
Medium filter (1 microns +)
BioGS HEPA Filter (0.03 microns+)
Activated Carbon Filter (includes odor removal)
Negative Ion Generator
The medium filter and BioGS HEPA Filter will do a pretty good job of removing most pet dander particles on their own and so choosing the correct optional filter is not quite as important as with some of the other machines.
Here is a video on the Rabbit Air MinusaA2 air purifier …

Check Latest Price of Rabbit Air MinusA2
Read User Reviews of Rabbit Air MinusA2
4. Winix WAC9500 Ultimate Pet

The Winix WAC9500 Ultimate Pet enjoys many of the great features that can be found on the more expensive options mentioned previously.
There are, however, no special filter options to choose from like some of the others.
The main features are:
True HEPA Filter to capture 99.99% of airborne pollutants, including pet dander and allergens as small as 0.3 microns.

Washable advanced odor control carbon filter to capture offensive pet odors and other household smells.

Washable Pre-Filter to capture pet hair and larger airborne particles.

PlasmaWave technology attacks pollutants at a molecular level to neutralize viruses, bacteria, odors, and gases in the air

Smart Sensors with Auto-Mode.

Odor, Dust and Light Sensors automatically adjust your air cleaner settings to meet the needs of your environment.
Here are some video reviews of the Winix WAC9500 Ultimate Pet air purifier …
Check Latest Price of the Winix WAC9500 
Read User Reviews of the Winix WAC9500
5. 

GermGuardian AC5250

The GermGuardian AC5250 with Pet Pure filter is the cheapest machine mentioned within this article.
Whilst it lacks some of the more advanced features found on the high-end machines, it is a perfectly respectable option for those on a tight budget.
Its main features include:
True HEPA + Pet Pure Treatment: True HEPA captures 99.97% of allergens including pet dander, dust mites and pollen. The Pet Pure is an antimicrobial agent added to the filter to inhibit the growth of mold, mildew and odor-causing bacteria on the surface of the filter.

Charcoal filter reduces common odors from pets, smoking and cooking

UV-C light technology works with Titanium Dioxide to kill airborne bacteria, viruses, germs and mold spores

28 inch digital tower with 5 speeds is best used for medium to large rooms and CADR rated 125+

5-year limited warranty
Here is a video of the GermGuardian AC5250 Pet True air purifier …

Check Latest Price of the GermGuardian AC5250.
Read User Reviews of the GermGuardian AC5250.
Leave a Comment
If you have an opinion on the subject of the Best Air Purifiers for Pet Dander & Pet Odors Article, please just leave a comment in the box below.