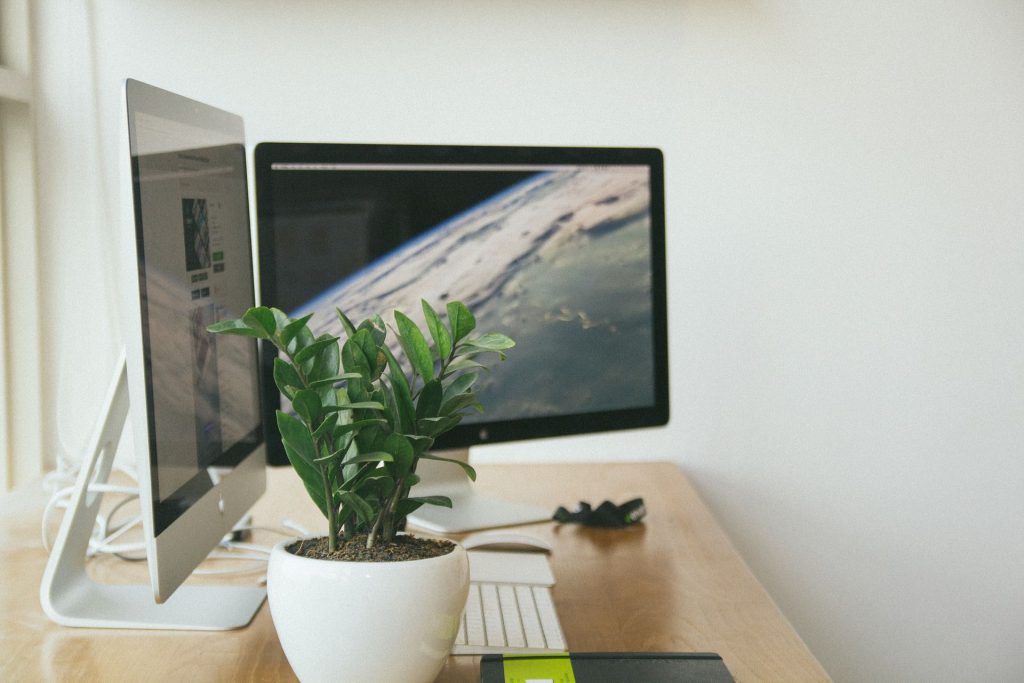 If you are looking to improve the air quality within a small room in your home or your office space at work, you might want to consider buying a desktop air purifier.
Perhaps you have asthma, allergies, or you simply want to remove unwanted odors from a small space? If you do, desktop air purifiers are specifically designed for these purposes.
There are lots of machines to choose from and it can be a pretty confusing choice to make for anyone that doesn't have much previous experience of air purifiers.
Each desktop air purifier will have different types of air filter mechanism fitted to it, they will all have different CADR ratings, and not all of them will necessarily be very effective or safe to use in an enclosed space such as a small room or office.
CADR stands for Clean Air Delivery Rate. An air purifier's CADR Ratings tell you how well that particular machine performed in scientific tests that are designed to assess their ability to remove smoke, pollen, and dust particles.
I am not going to explain all of the various different types of air filter and whether or not they work here,  but you can be assured that none of the desktop air purifiers that I have recommended are the potentially dangerous ozone-emitting types.
Instead, I will only recommend air purifiers that use a combination of HEPA Filters, Activated Carbon Filters, and UV Light Filters to clean the air.
Since they are mostly small and relatively cheap machines, they usually won't come with state of the art features or massive CADR ratings.
So, which are the Best Desktop Air Purifiers on the market at the moment?
5 Best Desktop Air Purifiers
1. Holmes HAP9240 Desktop Air Purifier
The Holmes HAP9240 desktop air purifier has a HEPA-style filter that removes up to 99% of airborne particles that are as small as 2 microns. It is not a True HEPA filter.
It has an "arm and hammer" filter to deal with smoke and odors and an optional ionizer included too. Personally, I am not a fan of negative ion air filter due to the fact that they produce quantities of ozone. So, if I bought this purifier, I would leave the ioniser off.
There are 3 different speed settings to deal with specific environmental conditions and adjust according to the amount of noise that you can tolerate. Apart from the fast setting, it is pretty quiet. I would only use the maximum speed setting while you are out of the room.
It is suitable for rooms that are up to about 100 sq. ft.
You will need to replace the filter every 4 months or so, but they are not that expensive on this model.
It has a smoke CADR rating of 65.
2. Honeywell HFD-010 Quietclean Compact Tower
The Honeywell HFD-010 Quietclean is a 35-55 CADR desktop air purifier that is specifically designed for small rooms.
One of its main selling points is that it is considered to be very quiet, which is very important if you need to be able to sleep or work in the room while it is cleaning the air around you.
It has 2 modes of use, uses no more power than an average light bulb, and is said to filter small rooms 5 times per hour using its permanent "ifD" Filter.
It is AHAM certified for use in rooms up to 62 sq. ft.
The CADR Ratings are 40 (smoke), 35 (dust) and 55 (pollen).
It does not use a True-HEPA air filter.
The big added bonus with the Honeywell HFD-010 is that you do not need to buy replacement filters for it when they become clogged up with dust and other particles. Instead, the filter is washable and this will save you a huge amount of money in the long run.
It comes with a 5-year warranty.

3. Honeywell HHT-011 HEPA Clean Compact Air Purifier
The Honeywell HHT-o11 air purifier is a compact machine that is designed for use in rooms of up to 85 sq. ft.
It is a pretty basic model with a permanent HEPA Style filter. It is not a True HEPA filter.
It has a washable carbon pre-filter and an optional ionizer unit. As I have already mentioned above, I would not personally use the ioniser unit due to the risks associated with ozone gas in the home.
It is rated as being capable of capturing 95% of particles as small as 2 microns.
Although the pre-filter is washable, the HEPA style filter is not, and will have to be replaced every 6 months or so.
It has a 3-year limited warranty.

4. Honeywell HPA060 True HEPA Compact Tower
As its name suggests, the Honeywell HPA060 True HEPA Compact Tower air purifier comes fitted with a True-HEPA filter that is capable of removing 99.97% of airborne particles measuring as little as 0.3 microns. You will have noticed that the "HEPA-style" filters are only capable of filtering much larger particles and so I would always advise you to buy a True-HEPA machine if you can afford one.
It can clean the air 5 times per hour in a room size of up to 75 sq. ft.
The great thing about True-HEPA filter apart from their ability to trap small particles is that they do not produce any ozone at all and are, therefore, completely safe.
In addition to the True-HEPA filter, there is an activate carbon pre-filter to remove the smaller smoke and odorous particles.
You will need to replace the carbon pre-filter and the HEPA filter. There is a warning light for both filters to tell you when to change them.
The top speed setting (out of 3 options) will be a little too loud for some, but the lower settings still work very well.
It has a CADR rating of 48.

5. GermGuardian AC4100 3-in-1 Air Cleaning System
The GermGuardian AC4100 is a very compact (11 inches tall) desktop air purifier that comes with 3 different types of air filter to ensure that it is capable of removing a wide variety of unwanted air particles.
It has a True HEPA filter for removing up to 99% of the larger dust, and pollen particles.
It also has a carbon activated pre-filter to deal with smoke and odors, and a UV Light filter for killing germs and mold spores. You can turn off the UV Light filter if you wish.
There are 3 different speeds of operation, including an ultra-quiet low speed.
It comes with a single filter that needs to be replaced every 6-8 months or so, but you can reduced the overall cost by buying a 4-pack of filters. To make sure that you don't forget to change the filter when required, there is very handy programmable dial that will remind you when the time is right.
It comes with a 1-year limited warranty.
My Recommended Desktop Air Purifier
I would buy one of the True-HEPA air purifiers since they are capable of capturing far smaller particles than the HEPA-style filters and, as a result, don't need to use an ionizer unit as a back-up filter.
If I had to choose one, I would buy the Honeywell HPA060.
If you don't want to have to buy replacement filters, then the Honeywell HFD-010 machine would be my pick of the HEPA-Style filter options.
Leave a Comment
If you have an opinion on the subject of the best desktop air purifiers, please just leave a comment in the box below. I would be particularly interested to hear from anyone that has used a desktop air purifier in their home or office. Did it work for you?